The Perfect Guide to Outsourced IT Help
Desk: 6 Essential Areas of Focus for Getting It Right
Get the Ultimate Guide to outsourcing your IT Helpdesk to the right outsourced provider, at the right cost with the right solutions.
Ready to outsource your IT help desk but not sure where to begin?
From choosing the right outsourcing provider, to managing the transition, and ensuring optimal helpdesk performance - there are many things you need to get right when it comes to IT help desk outsourcing. Calance brings 25 years of industry experience to help you find success with your outsourced IT helpdesk.
This ultimate guide is packed with everything you need to know, to step up your outsourced IT helpdesk the right way. It covers: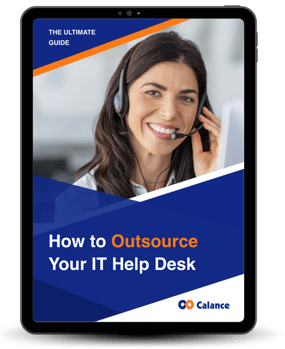 How to identify your key business objectives for outsourcing the IT helpdesk

A checklist for selecting the right partner

Understanding the expected challenges and how to overcome them

How to plan the transition

How to set the right expectations with the outsourced service provider and your internal teams

How to set up the right baseline helpdesk performance metrics
Download your copy of "How to Set Up the Perfect Outsourced IT Helpdesk" and get started today!